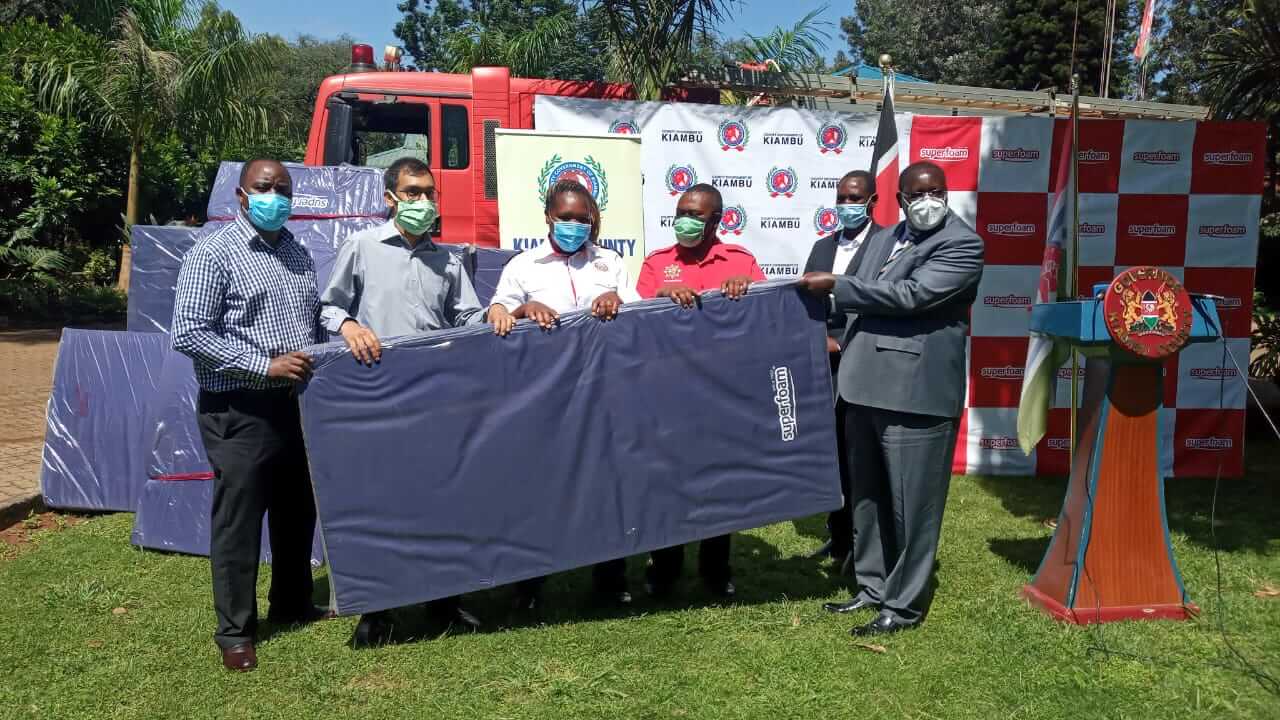 In the effort to combat the spread of COVID 19 in the country, Superfoam Ltd donates 30 High-Density mattresses to the Kiambu County Fire Rescue Team. The event was attended by Superfoam management members and Governor Kiambu County, Mr.James Nyoro at the Kiambu County Headquarters.
Kiambu fire Brigade has been experiencing a shortage of mattresses which led to the sharing of mattresses amongst every two firefighters at each of their stations. To immediately curb this sharing, which is also a great risk following the COVID 19 Virus, Superfoam limited saw the need as a responsible Kenyan organization to donate the mattresses to the institution. This donation saw the firefighters adhering to the basic COVID 19 social distancing principles, as well as having them well-rested and ready to save lives in case of a fire outbreak or emergency.
"Superfoam ltd is very glad to hand over this donation to help curb the spread of the virus amongst our firefighter's personnel. We wish for them to be adequately rested with social distancing precautions in place to ensure they are ready to combat any situation. We are working on other similar initiatives set to provide support to our neighboring community and to the nation at large during these tough times" Said – C.E.O Mr.Meeraj Shah, Superfoam Ltd.
Governor Kiambu County, Mr. James Nyoro expressed his utmost gratitude to the brand for their generosity and urged other well-wishers to join in the fight against COVID 19. "Kiambu County Government Would like to express our sincere gratitude to Superfoam Limited for taking the initiative to support our fighters. This kind gesture will ensure the firefighters are protected from the risk of contracting COVID 19.and equally ensure the safety of our community in case of an emergency."
"As a brand, we are guided by the service to our community virtues and during this pandemic we are looking into all possible areas within our community where we could offer our help to curb the situation, both within and outside our organization. We are for the community and the community is for us.Mr. Sagar Shah, Superfoam Limited Production head remarked.
Superfoam Ltd is seen to actively fight the pandemic. Various donations to Kenyatta National Hospital, MP Shah Hospital, Provide International Hospital & other needy organizations have been witnessed since the beginning of this situation.